Electronic Metronome
If you studying music playing, you should have a metronome. Today, electronic metronome is much more popular than mechanical metronome because the electronic metronome has several advantages. They are compact/small, reliable, cheap and very simple. Here is one example of the electronic metronome circuit :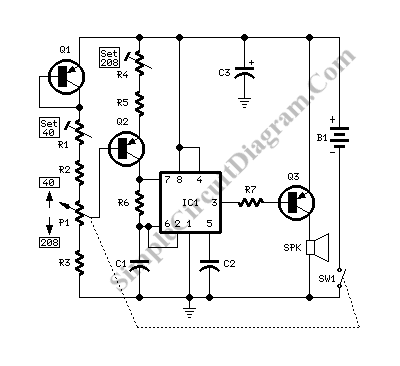 Parts:
* R1 10K 1/2W Trimmer Cermet
* R2 10K 1/4W Resistor
* R3 330K 1/4W Resistor
* R4 50K 1/2W Trimmer Cermet
* R5 100K 1/4W Resistor
* R6,R7 1K 1/4W Resistor
* C1 1 uF 63V Polyester Capacitor
* C2 10nF 63V Polyester Capacitor
* C3 47 uF 25V Electrolytic Capacitor
* Q1,Q2 BC560 45V 100mA Low noise High gain PNP Transistors
* Q3 ZTX753 100V 2A PNP Transistor
* P1 100K Linear Potentiometer
* SW1 SPST Switch (Ganged with P1)
* SPK 8 Ohm 40mm. Loudspeaker
* IC1 NE555 General purpose timer IC
* B1 12V Battery (MN21, GP23A or VR22 type)
A linear scale that can be directly mapped to the potentiometer position is provided by a variable current source that is built around Q2 and Q1. To amplify the signal to get louder click sound,like to clockwork metronomes, this circuit uses transistor Q3. This circuit powered by a 12V micro battery. It is used to obtain more compact package and more output. But if we can't find the battery we can use 9V battery. To obtain 208 beats per minute, we just rotate P1 fully towards R3, and then set R4. And to obtain 40 beats per minute (compare with another metronome) we just Rotate P1 fully towards R2, and then set R1.
This is the entire scale with the common metronome steps :
40 – 42 – 44 – 46 – 48 – 50 – 52 – 54 – 58 – 60 – 63 – 66 – 69 – 72 – 76 – 80 – 84 – 88 – 92 – 96 – 100 – 104 – 108 – 112 – 116 – 120 – 126 – 132 – 138 – 144 – 152 – 160 – 168 – 176 – 184 – 192 – 200 – 208. [Circuit's schematic diagram source: redcircuits.com]