Temperature Measurement via Thermocouple
This is a temperature measurement circuit using thermocouple. This is a low-frequency application. It will allow the OPA335 to be switched directly into the signal path. This circuit has low noise, high accuracy, and low drift. Here is the circuit :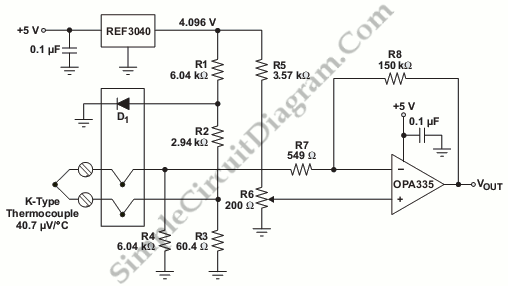 The 4.096-V bridge supply is provided by a precision voltage reference. A negative temperature coefficient of  diode D1's forward voltage is -2 mV/ºC. It also provides cold junction compensation via the resistor network R1 to R3. R6 is used to obtain the zero adjustment for a defined minimum temperature. The gain for the output amplifier is set by R8 and R7.
This circuit has 16-bit or better accuracy at high gain in low-voltage applications because the single-supply amplifier provide an open loop gain of 130dB. This circuit has an auto zeroing, that is used to provide typical values of 1 µV of input offset and 20 nV/ºC of offset drift over temperature and  remove 1/f noise. [Source: Texas Instruments Application Note]